Republican Elephant Pewter Pin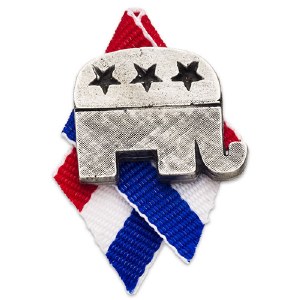 Republican Elephant Pewter Pin
Item#: 321880
$5.95
Description
Going back to a political cartoon in 1874 and possibly even earlier, the elephant has long been a symbol of the Republican Party. Cartoonist Thomas Nast was probably the one responsible for making the elephant mascot take root and remain in American politics, using it repeatedly in his cartoons to symbolize the Republican Party.
Made of pewter in the USA, this lapel pin comes with a red, white, and blue ribbon backing that not only adds a patriotic flair but also highlights the mascot's distinctly American origin and identity.

Product Details
Pin dimensions: approx. ¾'' W x ¾'' H
Includes red, white, and blue ribbon
Made of pewter
Made in the USA
Reviews
Customer Reviews
Average rating:
---
looks good
I bought it for a friend, and he loved it!
— Peter Drescher