Cobalt Glass Colonial Sparking Lamp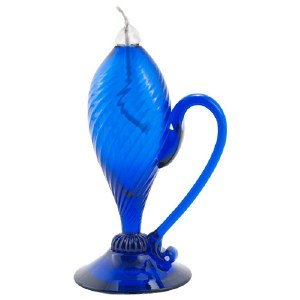 Cobalt Glass Colonial Sparking Lamp
Item#: 90064
$29.95
Description
Popular during the 1800s, oil lamps were used to set the duration of a gentleman caller's visit. When the lamp went out so did he. Add a spark of Colonial romance to your home with a decorative oil lamp from our Reproduction Collection.

Modeled after a Colonial artifact on display at the Jamestown Visitor Center Museum, the Cobalt Sparking Lamp mimics the elegant shape and curvature of early American household glassware. The vibrant blue color blanketing the Colonial aesthetic represents the use of cobalt metals to produce colored glass.

Product Details

Visit Jamestown Glasshouse to learn about modern glass colors
Historic replica by Jamestown Glasshouse exclusively for eParks
Temperature sensitive glass should be washed with warm soapy water
Colonial oil lamp ships with one wick; approximately 7'' tall
Individually hand blown at Jamestown Glasshouse, VA 23081

Reviews
Customer Reviews
Average rating:
---
Cobalt Courting Lamp
I was really happy when I found this at a second hand sale! It's such a beautiful piece of glass I immediately put it in my cart. It's such a lovely color and was so different from what I usually collect. I figured it was an oil lamp but had never seen one that size. I google searched it at home and had no idea that it had such an important purpose in its day! I contacted the park service and they were kind enough to send me wicks for it! Its a great conversation piece and is a wonderful addition to my home! Thanks so much! I love that it looks great w my other glass and that I own a piece of history. Maybe I'll put it to use when the grandkids get a little older!!
— Janice Cook