Battles of the Civil War National Geographic Map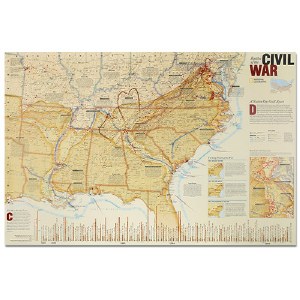 Battles of the Civil War National Geographic Map
Item#: 326790
Description
Wow is all you'll be able to say when you unroll the Battles of the Civil War National Geographic map. Everything is laid out in amazing detail: Color coded troop movements, historical notes for context, casualty counts by battle, and a Battle for the Capitals insert map that goes into special detail about the battles around D.C and Richmond.
Every single battle of the conflict—from Antietam, Gettysburg, and others that shaped the course of the war, to minor unnamed skirmishes—are noted accurately. No movement or event escapes documentation on this map, even the Union naval blockade is illustrated.
If you're a historian, this map is the perfect companion for writing and researching. If you're a history teacher, this map is essential for the classroom—students will benefit greatly from the highly-detailed visual aid. If you just enjoy Civil War history this beautiful map will help you contextualize the war in a new ways. Pick it up today!
Product Details
Reviews
Customer Reviews
Average rating:
---
Battles of the Civil War National Geographic Map
This is a beautiful map! National Geographic creates maps worth framing. I am actually getting this one laminated to post in the classroom when we are learning about the Civil War. Surrounding the map are some great detailed informational pieces with different area close-ups.
— Jean Nicoletti