Blue Ridge Parkway Roadway Magnet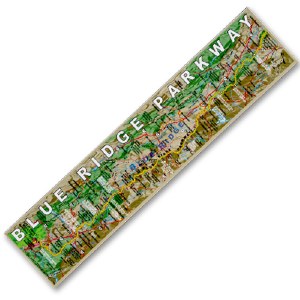 Blue Ridge Parkway Roadway Magnet
Item#: 330615
$5.99
Description
This magnet's topographical design gives you a new way to appreciate the Blue Ridge Parkway. Starting at Skyline Drive in Shenandoah National Park, you can trace the entire 469 mile length of the Blue Ridge Parkway down to Great Smoky Mountains National Park.
Each state and interstate roadway that connects to the parkway is labeled, as well as national forests, state parks, towns, cities, and even Native American reservations in the area are noted.
Pick up this magnet today and place it on your fridge, desk, or anywhere else that'll remind you of the beautiful and scenic views of the Virginia and North Carolina countryside.
Product Details
8'' x 1 3/4''
Made in America
Reviews
Customer Reviews
This product has not yet been reviewed.