Petersburg National Battlefield Hiking Medallion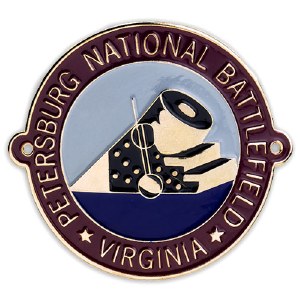 Petersburg National Battlefield Hiking Medallion
Item#: 416006
$5.95
Description
Established in 1926, Petersburg National Battlefield consists of some 2,700 acres and commemorates the long siege that took place in the Virginia town from June 1864 to April 1865. The battle is a highly important one in Civil War history because it led to the Confederate surrender at Appomattox and the end of the bloodiest conflict in US history.
Pictured on this hiking medallion is an illustration of a mortar that Union troops nicknamed ''The Dictator,'' but perhaps a better name for it would have been ''The Beast.'' Weighing about 17,000 pounds, this vicious metal monster packed a powerful punch, firing a shell weighing more than 200 pounds to a distance of more than two miles.
Product Details
Dimensions: 1½'' diameter
Includes three nails
Reviews
Customer Reviews
This product has not yet been reviewed.