1989 Passport® Stamp Set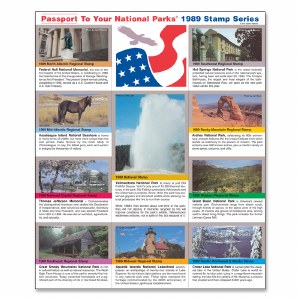 1989 Passport® Stamp Set
Item#: 391989
$5.95
Description
Calling all Passport To Your National Parks® Collectors! Add the the 1989 stamp set to your Passport To Your National Parks® Classic Edition, Collector's Edition or Explorer books. The stamp set includes one national and nine regional stamps with information and images of each highlighted park. In 1989 each of the featured parks enjoyed a special event or anniversary and the photos are selected from submissions by National Park Service employees and participants in the Volunteers-In-Parks programs to Eastern National's annual photo contest.

1989 Featured Parks & Historic Sites: National Stamp:
Yellowstone National Park
North Atlantic Regional Stamp:
Federal Hall National Memorial
Mid-Atlantic Regional Stamp:
Assateague Island National Seashore
National Capital Regional Stamp:
Thomas Jefferson Memorial
Southeast Regional Stamp:
Great Smoky Mountains National Park
Midwest Regional Stamp:
Apostle Islands National Lakeshore
Pacific Northwest & Alaska Stamp:
Crater Lake National Park
Western Regional Stamp:
Great Basin National Park
Rocky Mountain Regional Stamp:
Arches National Park
Southwest Regional Stamp:
Hot Springs National Park     
With over 20 years of stamp sets to choose from, you can begin to build your collection! Look for more in the
Passport Store
!
Product Details
Self-Adhesive
Proudly printed in the USA
Individual stamps not sold separately
Reviews
Customer Reviews
Average rating:
---
1 of 1 people found this review useful:
Passport stamp sets
I enjoy theses stamps of historical value, enjoy learning about these places, and it helps us decide on places to go.
— Richard Lasher
---
1 of 1 people found this review useful:
VLohn
Excellent item
— Victor Lohn
---
2 of 2 people found this review useful:
Parks and Monuments Stamps Online
Excellent service. It is such fun filling out our National Parks Passport book.
— Carolyn Nelson