2009 Passport® Stamp Set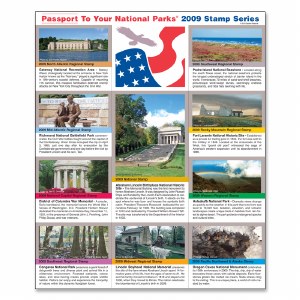 2009 Passport® Stamp Set
Item#: 392009
$5.95
Description
Calling all Passport To Your National Parks® Collectors! Add the the 2009 stamp set to your Passport To Your National Parks® Classic Edition, Collector's Edition or Explorer books. The stamp set includes one national and nine regional stamps with information and images of each highlighted park. In 2009 each of the featured parks enjoyed a special event or anniversary and the photos are selected from submissions by National Park Service employees and participants in the Volunteers-In-Parks programs to Eastern National's annual photo contest.
2009 Featured Parks & Historic Sites:
National Stamp: Abraham Lincoln Birthplace National Historic Site
North Atlantic Regional Stamp:
Gateway National Recreation Area
Mid-Atlantic Regional Stamp:
Richmond National Battlefield Park
National Capital Regional Stamp:
District of Columbia War Memorial
Southeast Regional Stamp:
Congaree National Park
Midwest Regional Stamp:
Lincoln Boyhood National Memorial
Pacific Northwest & Alaska Stamp:
Oregon Caves National Monument
Western Regional Stamp:
Haleakala National Park
Rocky Mountain Regional Stamp:
Fort Laramie National Historic Site
Southwest Regional Stamp:
Padre Island National Seashore
With over 20 years of stamp sets to choose from, you can begin to build your collection! Look for more in the
Passport Store
!
Product Details
Self-Adhesive
Proudly printed in the USA
Individual stamps not sold separately
Reviews
Customer Reviews
Average rating:
---
Love collecting these
I always purchase my stamp sets when I visit the parks but if I miss a year, this site provides just what I need. Love visiting and supporting our parks ! I have never been disappointed in any purchase made through eParks.
— Cynthia Eckley
---
VLohn
Excellent item
— Victor Lohn
---
Beautiful Stamps for Beautiful Memories
I recently purchased several years' worth of these wonderful stamps. I am leaving the same 5-star review for all the sets I purchased because every single one of them is deserving of the highest grade possible. It was a joy to sit down, relax with a cup of coffee, and dedicate many pleasant hours putting our family's Passport Explorer together. Passport stamps are beautiful, each depicting a scene from one of many special locations in this great land of ours. Flipping through the pages, as I found the right place for each stamp, brought back so many happy memories! The Passport Stamps are also an excellent way to learn about our culture, our history, and our geography. These sets, along with the Passport itself, are great souvenirs and worthwhile entertainment for young and old alike. Many thanks to the Park Service for this awesome product!
— Miriam Delgado
---
Stamps Not At The National Park
I love collecting the cancellations and stamps. It is always disappointing when the National Park you visit doesn't have the stamps and you need to pay shipping to order them on-line. Please work with the parks to assure an abundant supply of their stamps is kept on hand. Thanks!
— Paula Kyburz
---
Woohoo!
I just bought my passport today and am so excited to get started on it!
— Kate Mann
---
Can't wait to collect more!
We were in Hawaii and found our first passport sticker at Volcanoes National Park. We bought the passport for my grandson and he was very excited about the sticker and the stamp. Then we realized we had already visited Haleakala National Park and the WWII Valor in the Pacific National Monument but didn't see/collect the stickers there. I went online while still in Hawaii, ordered the stickers and they were waiting for us when we returned home. We can't wait to visit more of the national parks and hope our grandson stays as excited about it as we are.
— Thomas Anderson
---
Item came fast and in excellent condition
I was missing this year and another year, ordered them, and they arrived quickly and in excellent (like new) condition. I'm very pleased.
— Mary Packwood
---
Flight 93 Shanksville,Pa
Very informative and somber.
— Michael Hessong