A. Lincoln: A Biography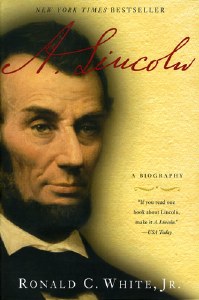 A. Lincoln: A Biography
Item#: 261431
$24.00
Description
Everyone wants to define the man who signed his name ''A. Lincoln''. In his lifetime and ever since, friend and foe have taken it upon themselves the characterize Lincoln according to their own label or libel. In this book, Ronald C. White, Jr., offers a fresh and compelling definition of Lincoln as a man of integrity whose moral compass holds the key to understanding his life. Through meticulous research of the newly completed Lincoln Legal Papers, as wells as of recently discovered letters and photographs, White provides a portrait of Lincoln's personal, political, and moral evolution. A transcendent, sweeping, passionately written volume that expands our knowledge and understanding of its subject, A. Lincoln will engage a whole new generation of Americans.
Paperback, 796 pages, ISBN: 978-0-8129-7570-3.
Reviews
Customer Reviews
This product has not yet been reviewed.