Cobalt Glass Wine Decanter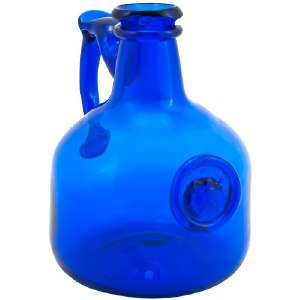 Cobalt Glass Wine Decanter
Item#: 91079
Description
Individually hand blown with cobalt metal, this historical reproduction is modeled after 17th century wine bottles used for serving patrons in Colonial Jamestown, just a few yards from the site where early American settlers established Jamestown glassblowing traditions in 1608. Our Cobalt Glass Wine Decanter is a mix of Colonial glass making and modern glass art, a potent combination that'll make for a heady sensation when you impress your guests when you serve them wine and spirits from this contemporary decanter.

Visit the Jamestown Visitor Center Museum to discover American glassblowing traditions set forth at the Jamestown Glasshouse in 1608. Open all year round you can tour this extensive gallery of Colonial culture, glass, and observe the surrounding areas of this National Park unit.
Specifications
Dimensions: approximately 8'' tall
Made in the USA
Profits support the National Parks Service
Wash with warm water
Do not put this item in a dishwasher or oven. It is temperature sensitive
Reviews
Customer Reviews
Average rating:
---
Cobalt glass wine decanter from Jamestown Glass
Absolutely beautiful! Made really well. Packed well and shipped out quick.
— Gail D Abrams
---
Wine decanter
This glass is just simply beautiful and extremely well made. It is a terrific center piece and everyone comments on its beauty. Well done!!!
— John Brown