World War II Memorial Hiking Stick Medallion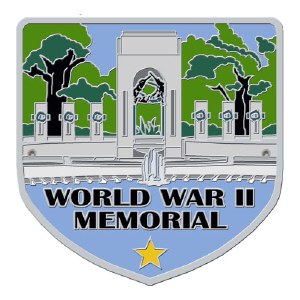 World War II Memorial Hiking Stick Medallion
Item#: 340724
$6.95
Description
This hiking stick medallion presents a head-on view of the monument, as if you were standing with the fountain right in front of you. Six of the 56 pillars, representing all the states and territories of America during the war, are visible on this medallion.
Also visible is one of the two triumphal arches of the monument. These arches, on the north and south sides, bear the words Atlantic and Pacific, representing the two theatres of the war. The gold star at the very bottom of the hiking stick is an homage to the 4,048 gold stars on the memorial, each reflecting the loss of 100 American service members.
What a unique way to pay respect to the generation of Americans that answered the call against imperialism and fascism. The World War II Memorial Hiking Stick Medallion also proudly proclaims to everyone that you've visited the nation's capitol!
Product Details
Designed and finished in America
Approx 1 3/4'' x 1 3/4''
Reviews
Customer Reviews
This product has not yet been reviewed.