Vietnam Veterans Memorial Pin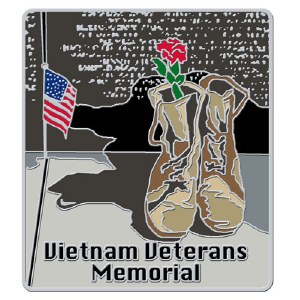 Vietnam Veterans Memorial Pin
Item#: 341871
$5.95
Description
Over 9,000,000 Americans served in Vietnam, with 58,148 giving their last full measure of devotion to their country. The Cold War conflict divided America, and made the country reevaluate its role in the world.
This pin, awash with symbolism, makes a humanitarian statement. The simple rose inside a worn military boot evokes images of peace, forgiveness, and healing—much like the memorial wall behind it.
Wear this pin to show that you appreciate those that served their nation during the Vietnam conflict.
Product Details
1'' x 1 1/8''
Designed and finished in America
Reviews
Customer Reviews
This product has not yet been reviewed.