Cape Lookout Lighthouse Pin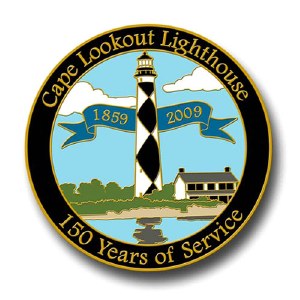 Cape Lookout Lighthouse Pin
Item#: 343516
$5.95
Description
The 1859 red brick tower was the second lighthouse built near Cape Lookout.  163 feet tall, its light reached approximately 15 miles out to sea to warn mariners of the dangers of Lookout Shoals.
The Light House Board assigned each coastal lights its own distinctive daymark, or color pattern to allow mariners to determine their location during the day in the same way that light flash patterns did at night.  In 1873, the Cape Lookout lighthouse was painted with its distinctive black-and-white diagonal checkers, or ''diamonds''.  
Product Details
Discover the 150 year history of the Cape Lookout light and lives of the U.S. Light House Keepers
Collectible Lighthouse pin measures 1 1/8'' in diameter

Reviews
Customer Reviews
This product has not yet been reviewed.