Flying Wright Brothers Pin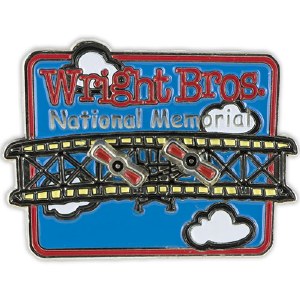 Flying Wright Brothers Pin
Item#: 344782
$6.95
Description
Celebrate Orville and Wilbur Wright with a pin engineered to recreate their childhood obsession with flight that launched them to new heights during the Industrial era. In pop art fashion, cartoony clouds and a blue sky set the scene of 1903 Kitty Hawk, North Carolina when the Brothers flew the very first aircraft! Popping off the pin are two spinning propellers, accentuating the magic of the event. Red comic sans text at the top reads, "Wright Bros. National Memorial."

Product Details

Visit Kill Devil Hills, NC to see where Wright Bros.' childhood dreams took off
Lapel pin with fixed spinning propellers by Hogeye exclusively for eParks
Commemorative lapel pin approximately .9'' x 1''

Reviews
Customer Reviews
This product has not yet been reviewed.