Cumberland Gap National Historical Park Embroidered Patch - Pioneer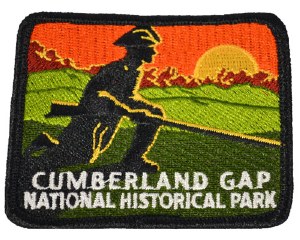 Cumberland Gap National Historical Park Embroidered Patch - Pioneer
Item#: 345011
$6.95
Description
Located in the Appalachian Mountains, the Cumberland Gap has a strong association with pioneers, and for good reason: It was Daniel Boone himself who created a 200-mile pathway through the pass, paving the way for the first settlements in Kentucky. Use of the road, however, was not without its dangers and challenges. In addition to natural difficulties such as the terrain and weather, travelers had to face the risk of being attacked by Native Americans. Nevertheless, some 300,000 people used it to get through the Gap.
This embroidered patch features an illustration of a pioneer as he likely would have appeared during those trailblazing days: decked with tricorne hat, wielding a musket and scanning the landscape. It is a vivid reminder of the pioneering difficulties of those early days of westward expansion in America.
Product Details
Dimensions: 3'' W x 2 3/8'' H
Designed and finished in the USA
Reviews
Customer Reviews
Average rating:
---
Patch and 2018 Passbook stamps
My wife and I have visited more than 100 National Park Service sites. We have used our Passbooks since they first were published and have collected stamps each year. We have been ordering patches for visited sites. We have found the on-line orders to be fulfilled accurately and quickly. Thanks you.
— Russell Jordan