Hamilton Grange Hiking Medallion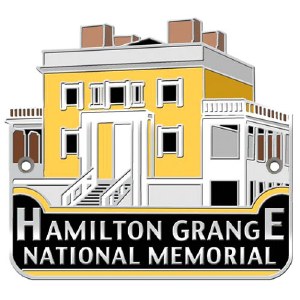 Hamilton Grange Hiking Medallion
Item#: 345916
$5.95
Description
The colorful Federal-styled home cut into our hiking medallion showcases the lavish tastes of founding father Hamilton Grange. Conveniently located near then Capitol Federal Hall, it was to serve America's first Secretary of Treasury as a permanent residence. In 1804 he was fatally wounded in a duel with longtime rival and brethren founding father Aaron Burr.

Part of the Revolutionary War Collection, our souvenir celebrates the path taken to ensuring American freedoms and independence for all.

Product Details

Visit Hamilton Grange NM to learn about early American political rivalries
Commemorative hiking stick medallion by Hogeye exclusively for eParks
Aluminum Hiking stick medallion approximately 1.75'' x 1.75''

Reviews
Customer Reviews
This product has not yet been reviewed.