Crater Lake National Park WPA Style Poster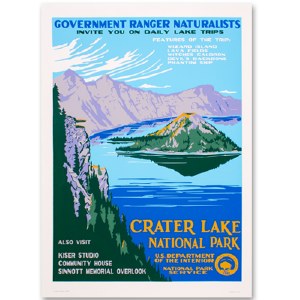 Crater Lake National Park WPA Style Poster
Item#: 347720
$49.95
Description
Thanks to the US Department of the Interior and National Park Service's diligent conservation and stewardship, places like Wizard Island at Crater Lake National Park remain as beautiful today as they were in the era of the Works Progress Administration.
Inspired by these iconic WPA posters, Ranger Doug (also known as the Ranger of the Lost Art) has created this gorgeous image that captures the beauty of Crater Lake and the spirit of the WPA. Hang this serigraph print in your home or office to remind yourself of the pristine beauty of our national parks.

Product Details

13.5'' x 19''
Serigraph print (silk screen)
Original artwork by Ranger Doug Enterprises
Reviews
Customer Reviews
Average rating:
---
I framed and matted it
It looks great in our study and a great reminder of our National park tour.
— Jane McBee