Great Smoky Mountains WPA Poster - John Cable Grist Mill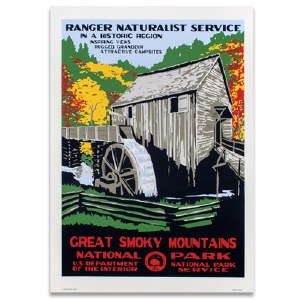 Great Smoky Mountains WPA Poster - John Cable Grist Mill
Item#: 347718
$49.95
Description
Nearly 100 years after the Works Progress Administration began creating its iconic travel posters, the style endures among national park enthusiasts and history buffs. Inspired by the iconic WPA posters, Ranger Doug (also known as the Ranger of the Lost Art) has created this gorgeous image that captures the beauty of the John Cable Grist Mill and the Great Smoky Mountains. Hang this serigraph print in your home or office to remind yourself of the pristine beauty of our national parks.
Product Details
13.5'' x 19''
Serigraph print (silk screen)
Original artwork by Ranger Doug Enterprises
Reviews
Customer Reviews
This product has not yet been reviewed.