Appomattox Court House Pin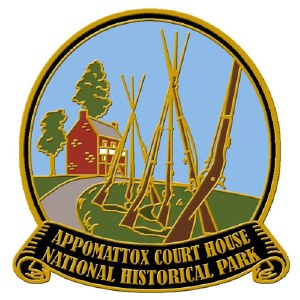 Appomattox Court House Pin
Item#: 350856
$6.95
Description
It can be said that, for the most part, the American Civil War ended in Wilmer McLean's parlor in Appomattox Court House. A disheveled yet honorable General Grant allowed the defeated Confederates to keep their horses and arms and return home. Soldiers, realizing the historical importance of the events taking place, took everything that wasn't nailed down from McLean's parlor as mementos and keepsakes.
This pin depicts stacks of bayoneted rifles in front of the long road to the McLean house superimposed on a blue sky background. The image is encased in a gold border, with a scroll at the bottom that reads Appomattox Court House National Historical Park.
Make a statement about your support for history with this collectible lapel pin!
Product Details
Designed and finished in America
Approx 1'' x 1 1/8''
Reviews
Customer Reviews
This product has not yet been reviewed.