Gold Fleur-de-Lis Earrings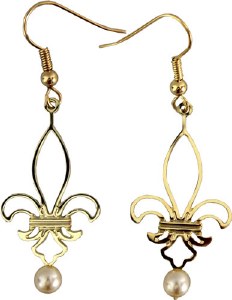 Gold Fleur-de-Lis Earrings
Item#: 351091
$29.95
Description
The statue of Eleanor Roosevelt at the Franklin Delano Roosevelt Memorial depicts her wearing a fleur-de-lis piece of jewelry. The fleur-de-lis, which if translated from French means ''flower of lily'', is a stylized lily which is used for decoration or symbol.
The gold color earrings are set off with a pearl-like bead on the bottom. They measure about an inch and a half long.
Reviews
Customer Reviews
This product has not yet been reviewed.