Start Exploring America's National Parks with the #1 National Park Guidebook
Choose the right Passport book for You
Passport To Your National Parks®: Organized by geographic region, this travelogue features color coded regional maps, need-to-know information about parks, an official NPS interpretive map, and plenty of space for cancellations and stamps. It fits perfectly in your hand, pocket, or bag for on-the-go reference and cancellation collection.
Passport To Your National Parks® Collector's Edition: The Collector's Edition goes above and beyond for the serious cancellation and stamp collectors. It has extra pages for even more cancellations, a durable hard cover, and enough space for all cancellations and stamps.
Passport To Your National Parks® Explorer Edition: Gather your cancellations and preserve memories with the Passport's Explorer Edition. This edition features a weatherproof portfolio that shelters the sturdy binder inside, pockets for other belongings, and an adjustable strap for easy, comfortable transportation. Use the Explorer Expander Pack to customize and add additional pages for cancellations and stamps.
Passport To Your National Parks® Junior Ranger Edition: Developed in collaboration with the National Park Service the Junior Ranger Edition is designed to complement and encourage participation in park Junior Ranger programs. Full of colorful and interactive educational content, this book provides ample space for official park cancellations and specially designed Junior Ranger cancellations that kids can earn when they complete a park's Junior Ranger program.
HOW DO I GET A PASSPORT CANCELLATION AT AMERICA'S NATIONAL PARKS?
Almost all of the 400+ National Park Service units offer cancellations for the Passport. The cancellations feature the name of the park along the top and a special designation or event on the bottom. There is a wheel of numbers within the mechanics of the cancellation stamper that allow visitors to get a personalized cancellation with the date they visited.
The stamps are unique in that they allow visitors to select the date, but they are also unique in the color of ink they correspond to. Every stamp is assigned a color according to the Passport region where they reside.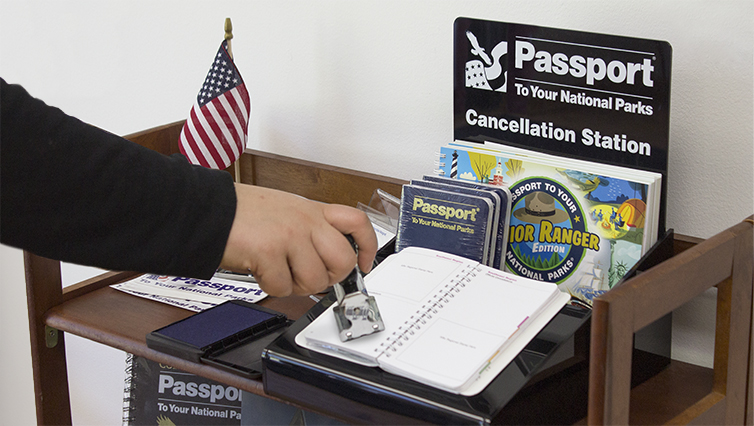 Find Cancellation Locations
ANNUAL COMMEMORATIVE STAMPS SERIES
Every year a series of collectible Passport stamps are released as well, featuring several of the National Parks. These stamps are chosen from the Photo Contest submissions, in which Volunteers-In-Parks (VIP's) and Park Personnel submit park photos.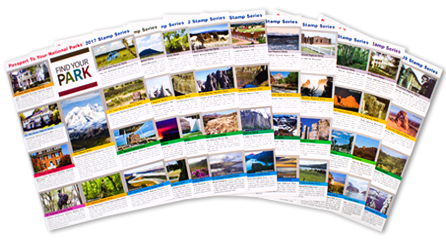 Collect Stamp Sets