2022 Passport® Stamp Set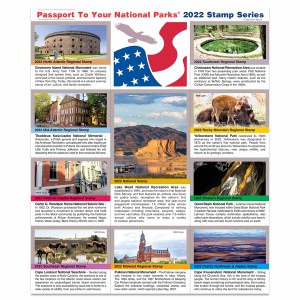 2022 Passport® Stamp Set
Item#: 392022
$5.95
Description
Calling all Passport To Your National Parks® collectors! The 2022 annual regional stamp set is here! Each annual set features beautiful, new color photos and interpretive text from National Park Service Sites across the country. The 2022 set includes the following national park treasures:
National Stamp: Lake Mead National Recreation Area 

North Atlantic Regional Stamp: Governors Island National Monument

Mid-Atlantic Regional Stamp: Thaddeus Kosciuszko National Monument

National Capital Regional Stamp: Carter G. Woodson Home National Historic Site

Southeast Regional Stamp: Cape Lookout National Seashore

Midwest Regional Stamp: Pullman National Monument 

Pacific Northwest and Alaska Regional Stamp: Cape Krusenstern National Monument
Western Regional Stamp: Great Basin National Park
Rocky Mountain Regional Stamp:  Yellowstone National Park 
Southwest Regional Stamp: Chickasaw National Recreation Area
Has your favorite park been featured? Passport To Your National Parks® regional stamp sets go all the way back to 1986! Look for more in the
Passport Store
!
Product Details
Self-Adhesive
Stamps cut to fit designated spaces in Passport To Your National Parks guidebooks.
Individual stamps not sold separately

*discount coupons do not apply to this item*
Reviews
Customer Reviews
Average rating:
---
Passport to National Parks
I started collecting the stamps in 1986. I have so many pages I divided the original book into 4 books. I get so excited when I go into the national park information buildings to get "stamped" I enjoy learning about new parks and other national buildings and monuments.
— Lesley Strauss
---
Passport Stamp Set
Needed to fill out my book
— Andrya Nelson
---
Great stamps
Love these stamps. I've been collecting them every year since the start of the program (over 30 years ago, I think!) It used to be difficult to get the stamps from regions which I haven't visited, so I really appreciate being able to get them all at once these days.
— Christine Tilden
---
5 of 5 people found this review useful:
Yearly stamp sets
I enjoy putting these stamps in my book. One thing I have noticed is the perforations are not good. I have to cut them off the sheet to keep from tearing them.
— Cathy Hoyt
---
1 of 1 people found this review useful:
2022 Passport Stamp Set
beautiful quality - as always. very convenient to order online.
— Kathleen Gelles
---
2022 passport stamp set
As a long supporter of the pass books, I found this year's set to be much easier to post in the book. With the easy peal strips you won't tear the stamps! They were also nicely packaged so that they were not folded or damaged at all.
— Beth Kent
---
Great Stamp Set
As usual the stamps are always easy to work with since they improved the way to take them off the sheet. They always have great pictures and great information.
— Isaac Cohen
---
What a beautiful view!
I always love buying my stamp set each year and getting to see the parks that are featured. It is a bucket list goal to hit all of the national parks some day, but it is a slow and steady process. It is nice to be able to still enjoy the great views and history of the parks even before I get to see them in person. The stamps always show up quickly as well, which is nice, especially in this age of supply chain nightmares. I have always been pleased with the stamp sets and can't wait to collect more in the future. Next year is time for a new passport book already!
— Cassandra Sieja
---
2022 Passport Stamp Set
I have the Collector's Edition passport binder. I have been collecting the annual stamp sets since 1986. I love the stamps and I love keeping my passport book up to date on the national parks etc. that I have been to. I highly recommend.
— B. Joyce Lockhart
---
1 of 1 people found this review useful:
Great new stamp set
It's another really cool stamp set. They easily tear out and stick perfectly into my passport. I can't want for next year's version.
— Reginald Thomas